This shop has been compensated by Collective Bias, Inc. and its advertiser. All opinions are mine alone. #WipeAwayHolidayMess #CollectiveBias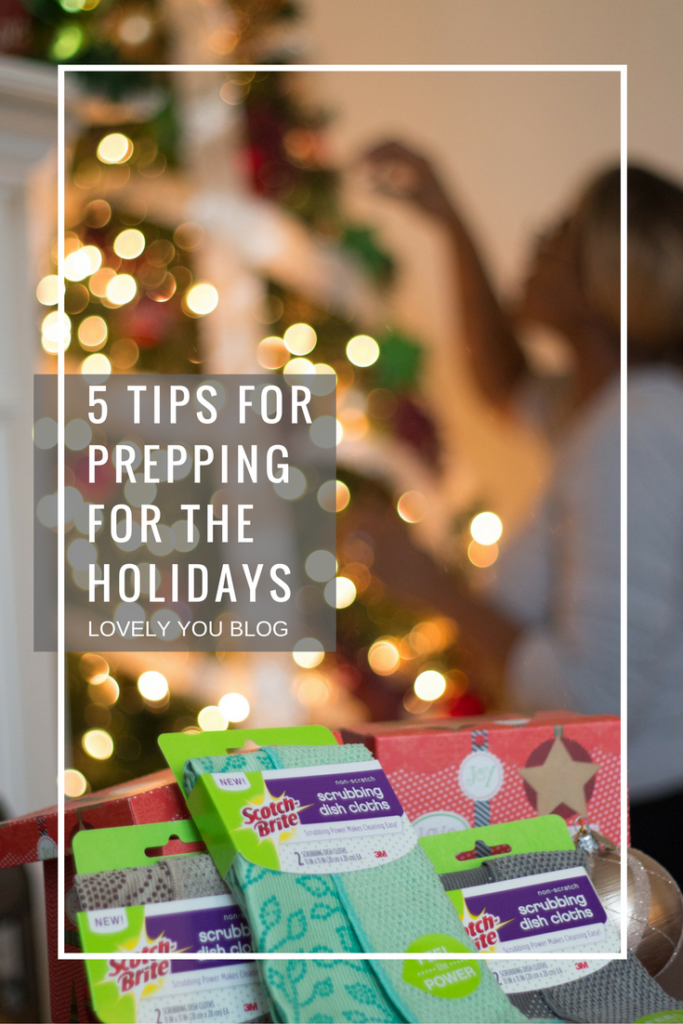 We still clean our dishes by hand! *Gasp!* I know! Yes, we have a dishwasher but to us, nothing gets our dishes cleaner than washing them by hand. With Thanksgiving behind us and Christmas coming up, we want to make sure that our kitchen is spotless among other areas and ready for cooking and receiving guests! Today, I'm sharing 5 Tips for Prepping for the Holidays!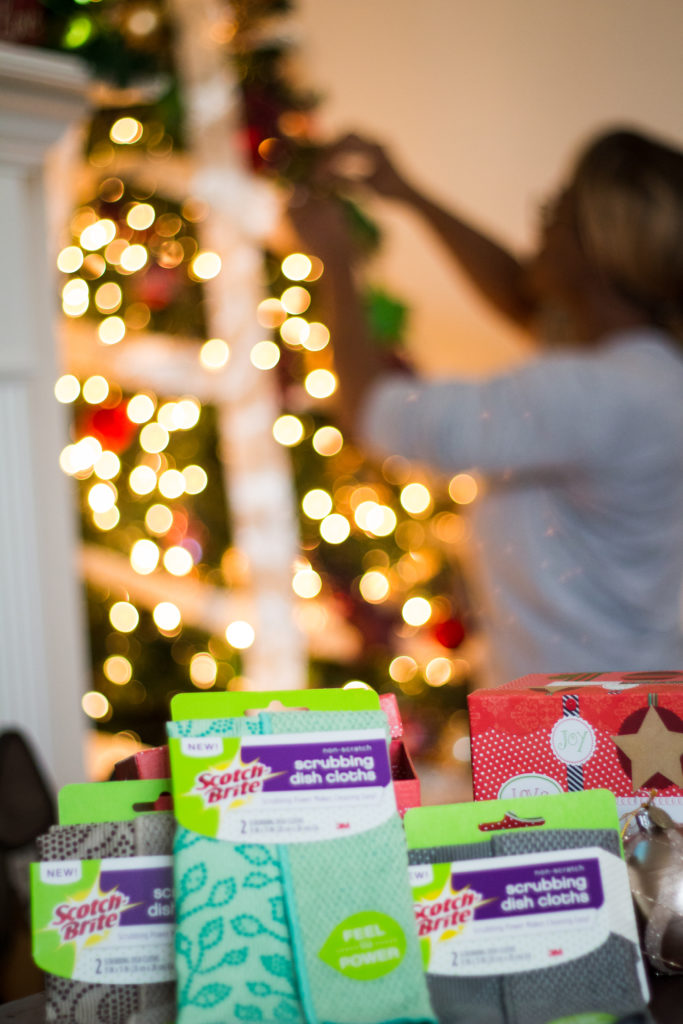 Although we didn't host the Thanksgiving family gathering at our house this year, I still ended up cooking Thanksgiving-ish dishes for our family to enjoy over Thanksgiving weekend. Like a turkey breast, stuffing, baked mac-n-cheese, fried drumetts, sweet potato pies and chocolate cake…yeah, that left the kitchen in a bit of a mess. Now with Christmas around the corner and the expectation of friends and family visits, it's time to really get to tidying up AGAIN, to wipe away holiday mess and to prep for the next holiday. So, I am getting it done with the help of the new Scotch-Brite® Scrubbing Dish Cloths.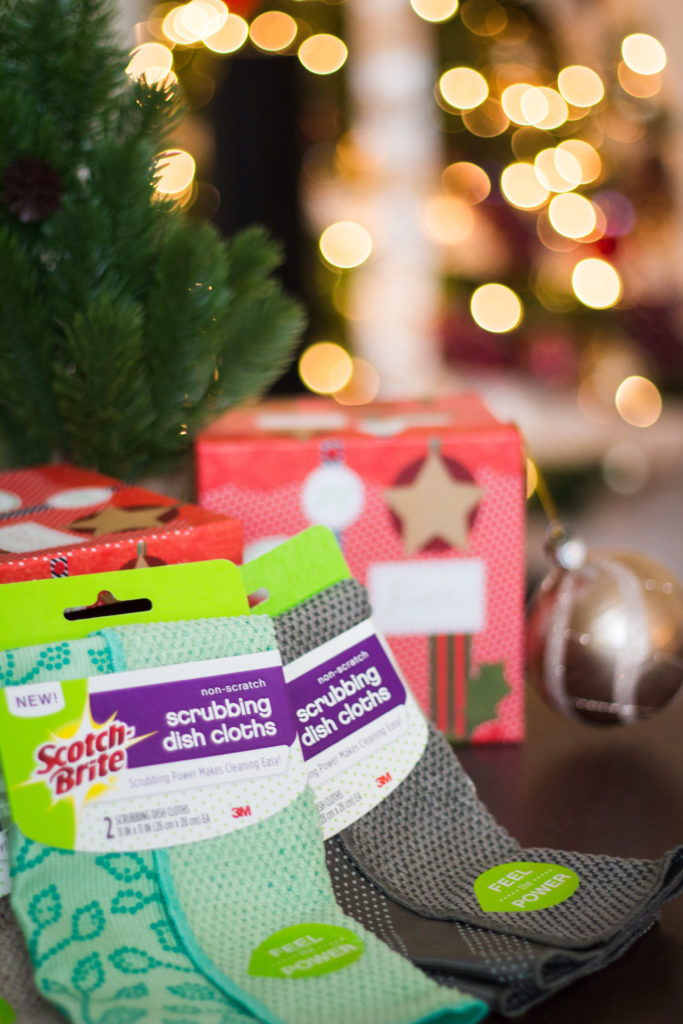 I picked up a 2-pack in Gray, Tan and Mint at Kroger. They are also available in Gray and in a 1-pack. Right now you can find an In-Store Clip Strip Offer for $1.00 off a 1-pack…a savings is always a plus!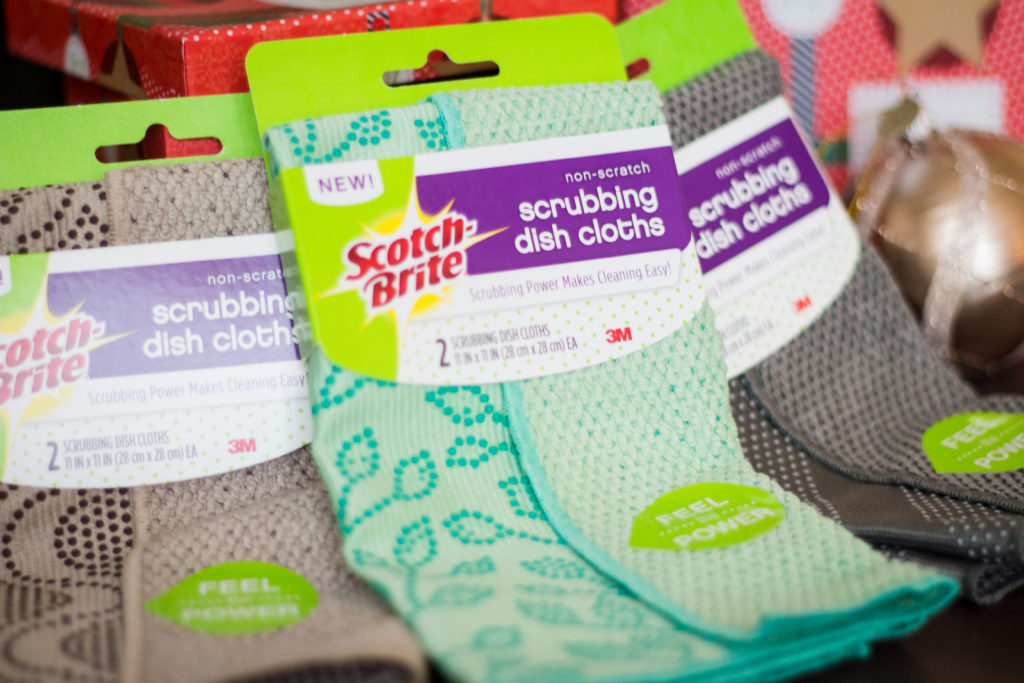 You can see that I found them in my local Kroger on aisle 9 near the 'brooms & mops' section.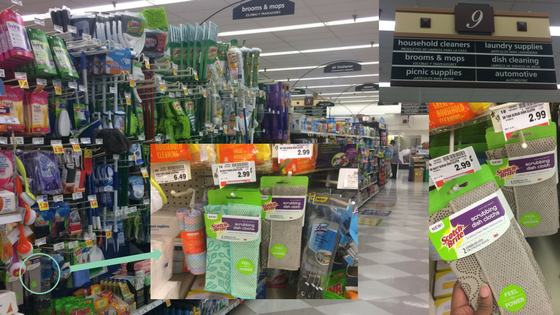 Now what's cool is that the new scrubbing dish cloth can be used anywhere in the house not just in the kitchen. So besides cleaning the dishes and kitchen area, I use them for wiping hand railing, door knobs and dusting. And since they can be used outside the kitchen, it's great that they are fully washable, reusable and sturdy. Most importantly I'm loving that this scrubbing dish cloth, actually does SCRUB! Scotch-Brite® scrubbing dots makes for a quicker and easier clean which will make your holiday prep 'easy peezy' as my son says. Now here are my tips for prepping!
5 Tips for Prepping for the Holidays
Get the right gear for the job. Having the right tools to getting the job done is key. Scotch-Brite Scrubbing Dish Cloths are perfect for cleaning anywhere in your house. I particularly love how I don't have to use my nails or a knife for certain messes like trying to clean baked on sauces from my stove top. 
Start Early and Take it bit by bit. You can't wait until the last minute to tidy up your house before visits. So, be sure to start a few weeks prior to the arrival of your guests. Plus, it's easy to become overwhelmed with your 'to do' list and holiday prep but by scheduling to tackle the house bit by bit, makes the task manageable and less stressful.
Pay careful attention to high traffic areas: entryway baseboards, handrails, door knobs. Areas where guest will see or use immediately, you want to be sure to tidy up those areas.
Dust. Sounds like the obvious but don't forget to dust those light fixtures especially those atop of your kitchen islands, sinks, dinner and nook tables.
Wipe down appliances: toasters, microwaves, refrigerator doors/handles. If you are like me with littles in the house, appliances can get pretty icky and sticky. So you have to be sure to clean them over during the holidays especially.
For more ideas for cleaning your biggest mess, click here!